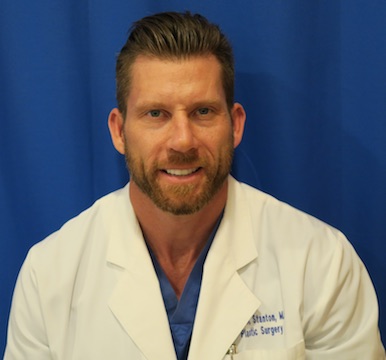 Plastic Surgery - MD, ABPS, ASPS
Mention this website, Bodyimplants.com and receive a FREE consultation!
License

Board Certified Plastic & Reconstructive Surgeon in Los Angeles, CA

Certifications

American Board of Plastic Surgery
American Society of Plastic Surgeons
American Medical Association
Diplomat of National Board of Medical Examiners

Education

M.D. University of Wisconsin School of Medicine, Madison, Wisconsin
Dr. Ryan Stanton is the founder and Medical Director, of the Modern Institute of Surgery, Inc in Los Angeles, California. Dr. Stanton is a fully credentialed, board certified plastic and reconstructive surgeon with over 15 years of experience performing thousands of Breast Augmentations, Facelifts, Rhinoplastys (Nose Job), Blepharoplastys (Eyelid Lift), Female Genital Surgeries – Labiaplasty (Labia Reduction) and Vaginoplasty (Vaginal Tightening), Buttock Augmentations – Implants and/or Fat Transfer (a.k.a. "Brazilian Butt Lift"), Body Contouring & Liposuction procedures and Anti-Aging Hormone Optimization Therapy. He also performs many other common cosmetic surgery procedures, including MIPS Mommy Makeovers.
After years of notable success in plastic surgery, Dr. Stanton opened the Modern Institute of Surgery, Inc and BHHI to address Complete Body Rejuvenation. Complete Body Rejuvenation is achieved his unique approach in dealing with both enhancing external appearance via Cosmetic Surgery Procedures at the Modern Institute of Surgery and optimizing internal health via his application of anti-aging therapy, bio-identical hormones, vitamins, herbals, and super-foods as well as his latest introduction of novel stem-cell and growth factor rich platelet-rich plasma therapy. Both approaches have maximized his patients' outward appearance and self-esteem, while aiding health and longevity.
Dr. Ryan Stanton is a fully credentialed board certified plastic and reconstructive surgeon focusing on cosmetic plastic surgery in Los Angeles, California. Before starting his practice, Dr. Stanton gained a wealth of experience in aesthetic plastic surgery practicing in Miami, Florida. Dr. Stanton did his initial training in both general surgery, and then plastic surgery. During his final year of residency training at University Hospital, Children's Hospital, and Shriner's Burn Institute of Cincinnati, Dr. Stanton served as Chief Resident in the Division of Plastic and Reconstructive Surgery. Furthermore, Dr. Stanton completed additional specialized training as a Fellowship in Aesthetic Plastic Surgery in Miami, Florida, before finally going into private practice. Since beginning private practice in 2001, Dr. Stanton's office and staff in Beverly Hills has been thriving on morals of courtesy, confidentiality, customization, and completeness. In 2005 Dr. Stanton opened Modern Institute of Plastic Surgery, Inc. a multi-specialty ambulatory surgery center accredited by Medicare. Furthermore, in 2013, The Institute of Men's Health focusing on male issues such as low testosterone, erectile dysfunction, premature ejaculation, and non-surgical penile enhancement.
Dr. Stanton's philosophy and practice utilizes his early training as a pharmacist to treat the mind and body internally with superb nutrition and bio-identical hormone balancing (when indicated) AND he treats the body externally with proven and effective plastic surgery techniques – "Modern Beauty, Inside and Out."
Dr. Stanton has been in national and international media, including: TLC's "Plastic Wives", The Doctors Show, Discovery Channel, Montel Williams, Women's Entertainment Network, CBS, Fox, & KTLA News'; Fitness, In, Star and Gala Magazines, and Plastic and Reconstructive Surgery, Aesthetic Surgery, and Clinics In Plastic Surgery peer reviewed journals.
Dr. Stanton has become best well known nationally and even internationally as a specialist in Labiaplasty, Breast and Buttock Augmentation/Implants (as well as unique body implants – hip, pectoral, & calf), and the science of Anti-aging Nutrition and Medicine with Bio-identical Hormone Balancing/Optimization.
As a scientist, Dr. Stanton has also been active in product development and formulation under "Body By Stanton" 1) Dr. Stanton Lifestyle, 2) Dr. Stanton Weight Loss Formula and 2) Dr. Stanton Recovery Formula. Currently he is working with a biochemist on several new applications for their novel stem cell therapy invention for not only facial rejuvenation but also for hair restoration, pain relief, erectile dysfunction, vaginal rejuvenation, and even penile augmentation applications!
Hip Implants
Buttock Implants
Calf Implants
Pec Implants
Bicep Implants
Tricep Implants
Breast Implants
Deltoid/Shoulder Implants
Thigh Implants
Dr. Ryan Stanton is the founder and Medical Director, of the Modern Institute of Surgery, Inc in Beverly Hills, California, and its specialized subsidiary, the Beverly Hills Hormone Institute (BHHI).
Our facility is located in Beverly Hills, CA.
Hip Implants
Buttock Implants
Calf Implants
Pec Implants
Bicep Implants
Tricep Implants
Breast Implants
Deltoid/Shoulder Implants
Hip Implants
Buttock Implants
Calf Implants
Pec Implants
Bicep Implants
Tricep Implants
Breast Implants
Deltoid/Shoulder Implants